Capital Flight SI 99 was the product of breeding The Signature SI 107, and Make Mine Cash SI 110 (X Dash for Cash).  Capital Flight's full brother was 'Make Mine Bud' SI 107 - a world champion aged stallion and stakes winner of 9 races , placing in 12 of 15 starts. 

Capital Flight has produced many successful race and barrel racing horses in his career.  As a race horse sire, he has produced 9 starters, 4 winners, 5 ROM, 1 stakes placed. 

Capital Flight's final foal crop hit the ground this spring as he died last winter.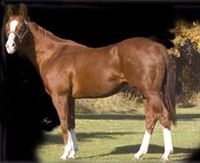 Full Brother to Make Mine Bud SI 107, World Champion Aged Stallion